HAIR LOSS TREATMENT FOR MEN IN GURGAON
The hair loss and consequent baldness is making a man appear older than his actual age by shifting the balance of the face to the forehead. This is affecting the person's feeling of attractiveness and self-esteem. Some people start wearing wigs, which make their situation even worse. Wigs make them self-conscious as well as cause irritation. Wigs, even, increase the hair loss.
Around 15%-20% men in their 20's experience some hair loss and this incidence of hair loss increases to 50%-60%at around 50 year age group. Thus, it is required to consult with the qualified dermatologist and find the causes of hair loss as well as the best treatment for you!
Over the past few years, development & evolution of hair transplant have been of great help to these individuals to regain their natural looks again.
Causes of Hair Loss in Men
Most common cause of hair loss in men is androgenetic alopecia or "Male pattern Baldness". This occurs in men whose scalp hair follicles are genetically susceptible to the effects of Dihydrotestosterone (DHT), a male hormone. These susceptible follicles are located on the front and top of the scalp and not on the back and side of the scalp and thus it produce a specific pattern of hair loss, initially described by NORWOOD.Testosterone is a hormone responsible for sex characteristics in men and there is an enzyme- 5- alpha reductase which converts testosterone into dihydrotestosterone (DHT). It is this DHT which causes hair loss in men with genetically predisposed follicles.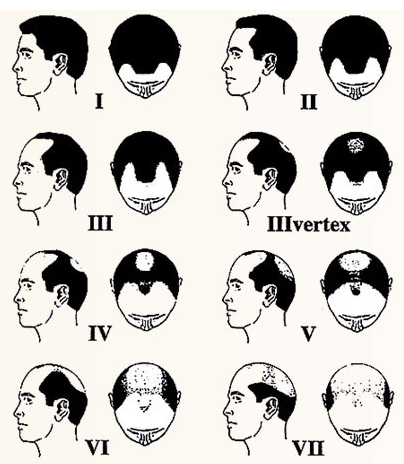 Norwood Classification
Class I – Adolescent / Juvenile Hairline. Not actually balding.Hairline rests on upper brow crease.
Class II – Mature hairline, about 1.5 cm above upper brow crease for some temporal recessionNot represent balding.
Class III – Early stage of hair loss.Deepening of temporal recession.
Class III Vertex – Early hair loss at the crown (vertex).
Class IV – Frontal hair loss and enlargement of vertex.Solid band of hair separating front from vertex.
Class V – Enlarged front and crown bald areas.Bridge of hair b/w front & vertex break down.
Class VI – Disappearance of connecting bridge in single large front and top bald area on scalp.
Class VII – Extensive hair loss.Only a wreath of hair remains at back and sides of the scalp.
Some of the other common causes of hair loss in men
Improper lifestyle, which includes unhealthy eating, stress and improper hair washing techniques
Imbalance of thyroid
Physical trauma such as an accident or surgery or chemical injuries such as acid burns
Medical treatments such as chemotherapy or radiation
Genetic disorders
Infectious diseases such as herpes, leprosy and tuberculosis
Skin diseases such as Lichen Planus and DLE
Get a Quick, Free Consultation Online Contact