HAIR LOSS TREATMENT FOR WOMEN IN GURGAON
Ludwig Classification of Female Hair Loss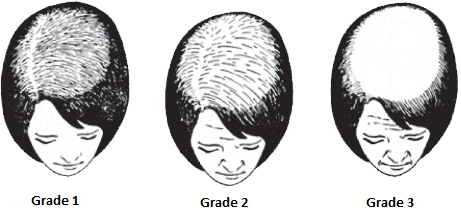 In all the three stages, hair loss is on the front or top of scalp with preservation of frontal hairline.
In Grade 3 Hair Loss, the women with stable hair on back & sides of the scalp are candidates for hair transplant
Causes of Hair Loss
Female Pattern Hair Loss: There is diffusely thinning of hair throughout the scalp. But contrary to male pattern baldness frontal hairline always preserved.This condition is also known as Androgenic alopecia of female and is hereditary.
Hypothyroidism: Thyroid disorder is commoner in female and also responsible for thinning of hair in women.
Anemia: Iron deficiency anemia is common and prime reason for hair loss in women.
Telogen Effluvium: In this case, sudden stress to body (like major surgery, accident or typhoid fever, or mental stress etc) cause increase hair loss. It is generally reversible if treated properly.
PCOS: Polycystic Ovary Syndrome (PCOS) is alarming now a days and also one of the reasons behind hair loss in females, which arises basically due to imbalance in male and female sex hormones.
Pregnancy: Generally women suffer from sudden hair loss after pregnancy. This is known as postpartum hair loss through loss of hair is temporary.
Nutritional factors: Hair Loss in women can also be due nutritional deficiency , overeating of junk food and lack of protein or due to deficiency of Vitamin B (Biotin, vit B12) in diet.
Menopause: In this condition, women find clumps of hair falling, and even baldness in some scalp areas. This condition is caused due to hormonal imbalance.
Chemotherapy: Chemotherapy causes your hair to fall out, though it is temporary and the loss will recover soon after cessation of drug.
Trichotillomania: It is psychiatric disorder in which people have urge to pull their hair from the scalp or other parts of the body. This cause patchy hair loss and even baldness in some women.
Medications: Various medications like Birth control pills, antidepressants & blood thinners also cause excessive hair fall.
Get a Quick, Free Consultation Online Contact