What we achieved till November 2023

15+ Years of Exp
Hair Transplant

2995+
Transplants

6115+
Hair Fall Treatment

PGIMER
Dermatologist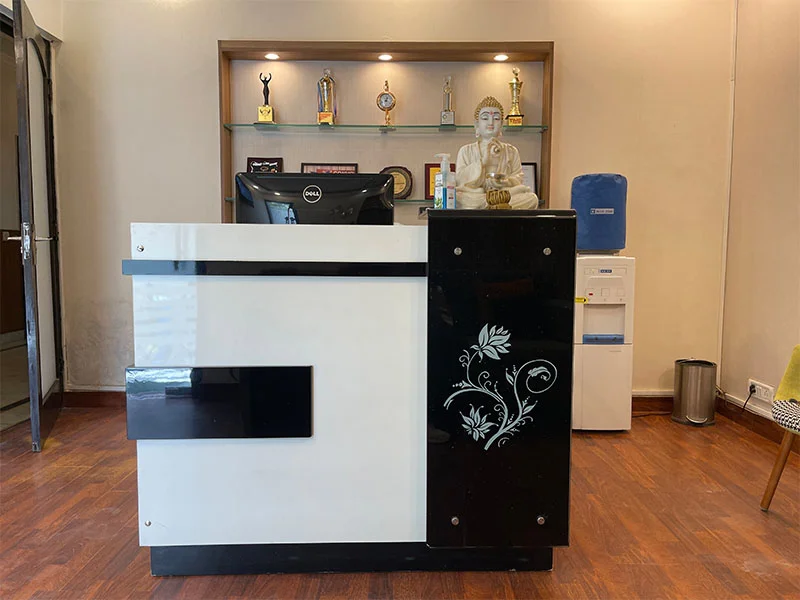 Best Hair Transplant Clinic in Gurgaon
AKS Clinic, headed by Dr. Akhilendra Singh & Dr. Khusboo Singh, is a well-known hair, skin, and dental facility. Renowned for safe and effective hair loss treatments, the clinic boasts state-of-the-art tools and techniques. AKS Clinic provides comprehensive solutions for hair, skin, and dental concerns, aiming to restore hair on your head using advanced medical methods. With a focus on results and safety, AKS Clinic has become a trusted destination for diverse healthcare needs.
Hair Transplant Treatment Clinic in Gurgaon:
AKS Clinic, Gurgaon's top hair transplant clinic, ensures pain-free procedures with advanced equipment spearheaded by Dr. Akhilendra Singh. With a high success rate, their result-oriented treatments are safe for all age groups, marking a significant advancement in the field.
Cost of Hair Transplant in Gurgaon
The hair transplant cost varies due to multiple factors. Typically done in a clinic to ensure simplicity, the surgeon cleans and numbs your scalp. The doors perform the transplant using follicular unit strip energy or follicular unit extraction methods.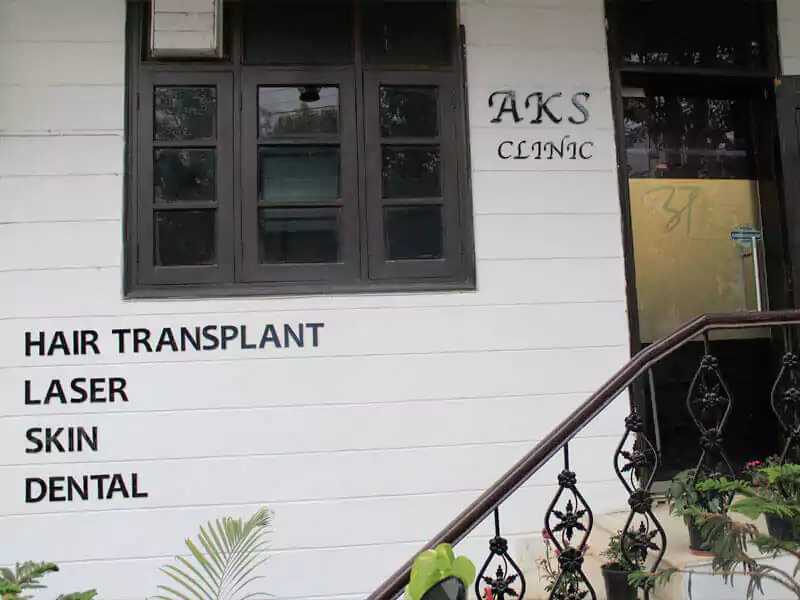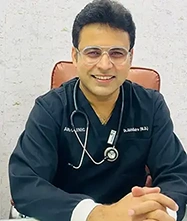 DR.AKHILENDRA SINGH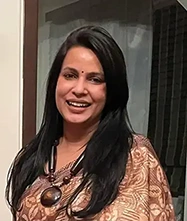 DR.KHUSBOO SINGH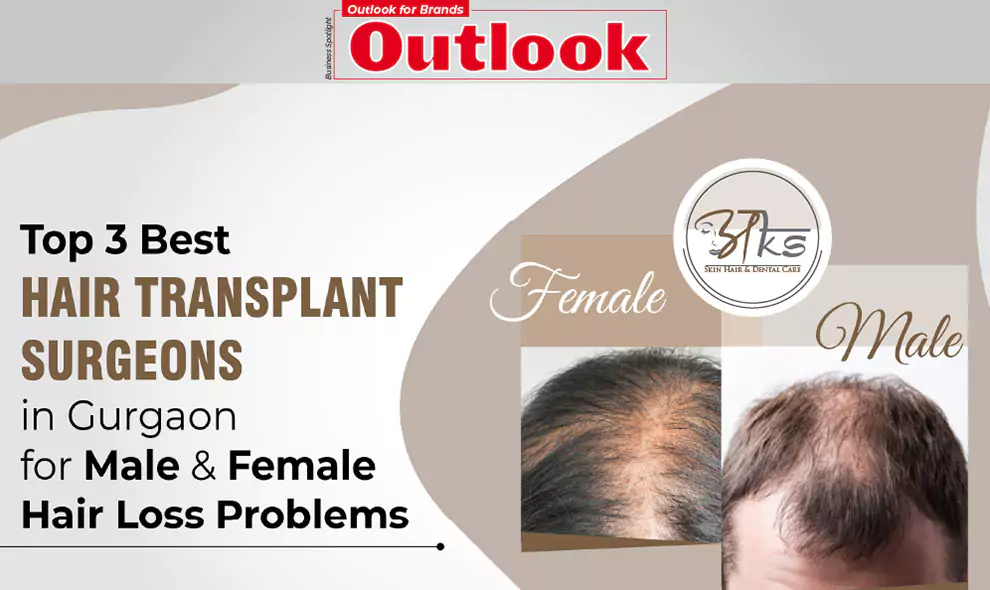 Top 3 Best Hair Transplant Surgeons In Gurgaon Inc. AKS Clinic For Male & Female Hair Loss Problems
A hair transplant is a cosmetic surgical procedure that involves the transplantation of hair follicles from one area of the scalp (known as the donor area) to areas experiencing hair loss or thinning.
May 25, 2023
Outlook featured Aks clinic
What is FUE & FUSS?
The primary aspect of the transplant procedure involves extracting permanent hair-breaking skin from either the back or the side of the scalp. The doctors make it possible through a specific method. The method is all about getting a follicular unit from your donor site, and you don't have to worry at all, as only one graft is used at a time.
This surgical technique entails relocating existing hair to address areas with thin or no hair. These well-known hair transplant procedures have undergone significant advancements in recent years. In the process known as Follicular Unit Strip Surgery (FUSS), a 6- to 10-inch section of skin is taken from the back of the skull, placed on a shelf, and then the scalp is sutured shut. The surrounding hair immediately conceals the donor site.
For those undergoing Follicular Unit Extraction (FUE), the surgeon's team shaves the back of the scalp. The clinician then extracts hair follicles, leaving small dots as the region heals. These dots mark the areas where the new hair will be covered.
How Does a Hair Transplant Work?
Following the cleaning and numbing of the designated hair placement area, the surgeon employs a scalpel or needle to cut holes or slits, meticulously positioning each graft within one of the incisions. Additional team members are likely to lend assistance in the graft implantation process.
The procedure duration ranges between 4 and 8 hours, contingent on the extent of the transplant. Should hair loss persist or if you opt for increased hair thickness, a subsequent operation may be necessary. Discuss your concerns with the best hair transplant surgeons at AKS clinic, known for their dedicated efforts in delivering excellent services at a cost-effective rate. Therefore, opt for our clinic to secure the best-guaranteed hair transplant in Delhi-NCR.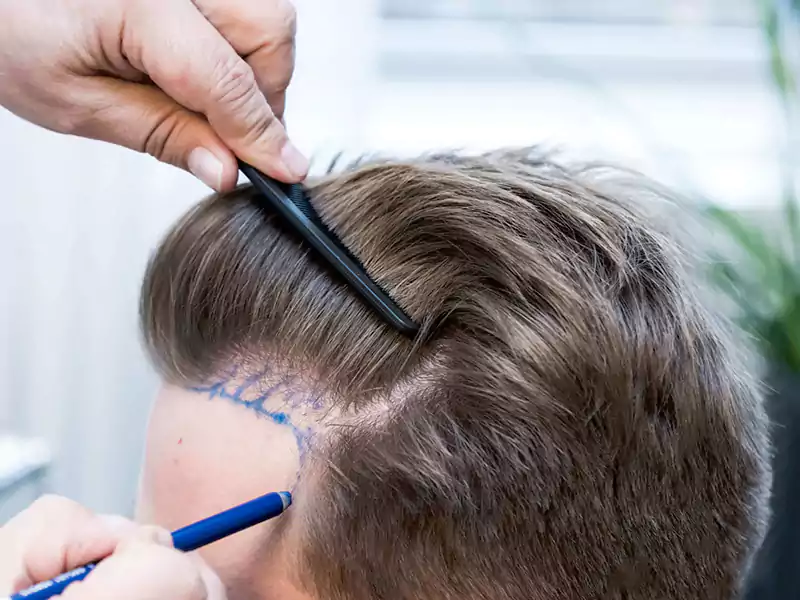 What are the advantages of the FUE Transplant Method at the AKS Clinic
Opt for AKS clinic due to the precision of our instrument procedures, minimizing failures and eliminating graft wastage.
Our experts employ tried-and-tested surgical techniques, including directly implanting extracted grafts, ensuring a 100% survival rate.
Utilizing the best magnification system available, we meticulously graft each hair.
A highly experienced surgeon handles graft extraction, ensuring a low failure rate.
In the same setting, we can harvest from the body and beard areas if the donor area on the scalp is limited.
Our commitment extends to ensuring that the recipient area achieves optimal density.
FROM OUR BEST DERMATOLOGIST
Popular Services

Hair Transplantation

Hair Loss Treatment
Laser Treatment

Skin Care
Client's Testimonials
A BIT OF OUR TRUSTED REVIEWS
Very good and easily procedure very we'll done. In beginning I was little bit confused but doctor has cleared all my doubts and then surgery was very smooth.good treatment at affordable cost
- Sudhir Verma ,
I am satisfied with my surgery at affordable cost. it was a good experience and pain less procedure. Thanks to the doctor Akhilendra Singh and staff specially Pushpa.
- Amit,
Great experience with Dr Akhilendra Singh. Nice staff very helpful, specially Geetika. I am very satisfy with my treatment at affordable cost. I really recommend this best hair treatment clinic in Gurgaon.
- Rajkumar,
Excellent hospitality and wonderful work done by the team. They put 100% effort. Great job at affordable cost. I am very thankful to Dr Akhilendra singh.
- Siddhartha Kumar Shrest ,
Can you get a Hair Restoration Surgery Done
Yes, you can get hair restoration surgery if you face male or female pattern baldness. You can also benefit from this procedure to rejuvenate your hairline.
Those with scarring from injuries or skin conditions and post-surgery hair loss, including facelift procedures, are also eligible. Our approach caters to diverse needs, making the system suitable for various scenarios and ensuring the best results for each candidate's unique requirements.
What Happens During the Hair Transplant Process at AKS clinic?
Hair transplantation is a brief outpatient procedure that lasts four to 12 hours and is conducted under local anesthesia without dietary restrictions.
Using a specialized tool ensures scar-free removal and the cosmetic outcomes are exceptionally favourable.
Easy placement of minimum grafts in the bald or thinning scalp area is undertaken, ensuring consistency with the angle of existing hair for optimal results. What can happen after a transplantation process?
Trim crusts develop on each graft 24 hours post-surgery, shedding typically within two to three weeks. Grafted hair initiation occurs in two to four months, with the full results manifesting a year after the procedure.
Mild swelling in the forehead may occur in some patients for a few days post-surgery, resolving within three to four days.
Patients are frequently advised to utilize moist sprays or compressors and maintain a semi-upright sleeping position for two to three days post-surgery to mitigate swelling.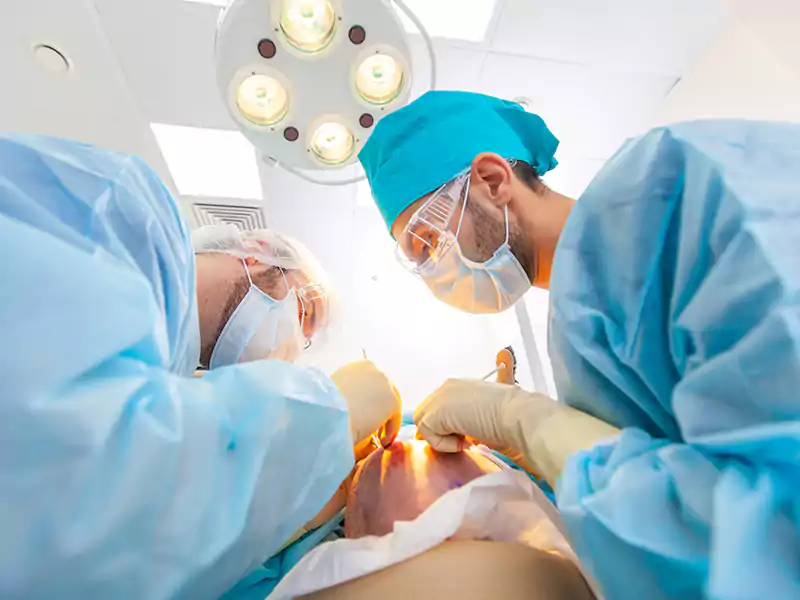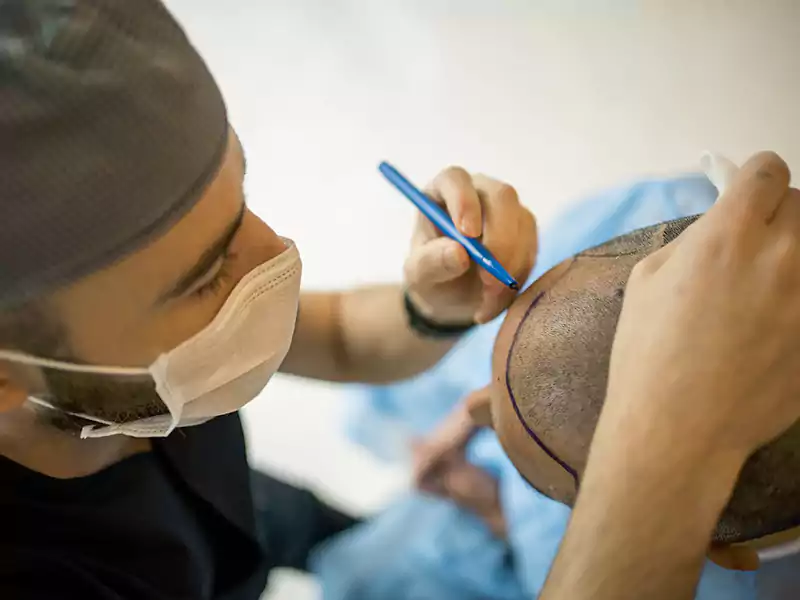 What Happens After the Hair Transplant Process at AKS clinic?
Trim crusts will form on each craft after 24 hours of the surgery, and then they will be shed, usually in two to three weeks. The grafted hair can start growing in at least two to four months, and the total result will be achieved after one year of your surgery.
Some patients can also experience mild swelling in the forehead for some days after the surgery, but the inflammation will settle in three to four days.
We often ask patients to use moist sprays or compressors to sleep in semi-upright positions for two to three days after surgery to minimize swelling.
Hair Treatments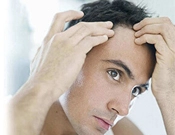 Biostimulated FUE
Bio-stimulated FUE is one of the best techniques used for hair transplantation.
EXPLORE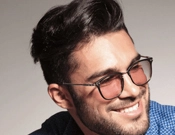 Direct Hair Transplant
Direct Hair transplant is the most advanced hair transplant technique.
EXPLORE
Cosmetic Procedures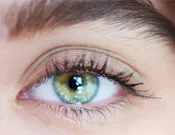 Eye Lash Lift & Tint
Eyebrow lamination is a technique to give a proper shape, size and structure to your eyebrows and fix seal their shape
EXPLORE
Scalp Micro-pigmentation
Scalp micro pigmentation is an advanced technique of cosmetic pigmentation.
EXPLORE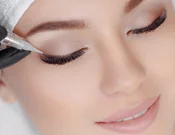 Semi-Permanent Makeup
In current times, semi-permanent makeup is a very popular trend, and many individuals.
EXPLORE
When Should You Choose This Treatment
Our experts at AKS clinic will help you understand your hair loss treatment, and they can also guide you on when you can start the cure for the best results.
Principle of Hair Transplantation
Typically, hair transplantation operates on donor dominance, where the hair at the back or side of your scalp is expected to persist throughout your life, displaying resistance to hormonal influences despite severe hair loss. When transplanted to bald areas, this hair grows naturally, allowing for styling, washing, and trimming as desired. As you age and experience further balding progression, subsequent hair transplant sessions may be needed. While predicting the exact pattern of hair loss is challenging, it's crucial to acknowledge the likelihood of it occurring. Our medical therapies, including laser hair stimulation, can assist in mitigating hair fall and addressing baldness.
Why should you consider getting a hair treatment done with Dr. Akhilendra Singh
Dr. Akhilendra Singh is a premier hair transplant surgeon in Gurgaon, boasting proven expertise through numerous successful cases. Renowned for prioritizing patient safety and delivering personalized care, he tailors hair transplant surgeries to meet individual requirements and budgets.
We have a vast range of transplant options and ensure you get your hands on the best. Several people are choosing us as we offer the best treatments. This approach enables informed decision-making and realistic expectations for head transplant surgery.
Why Should You Choose AKS Clinic for Hair Transplant Surgery
If you're losing hair and want a good hair transplant in Gurgaon, AKS clinic is your best bet. Our experienced team of hair transplant surgeons in Gurgaon can help you with personalized services. The cost depends on the doctor, professionalism, and how much hair you've lost. But always remember, it's more important to focus on the quality of the procedure than just the cost.
CELEBRITY RESULT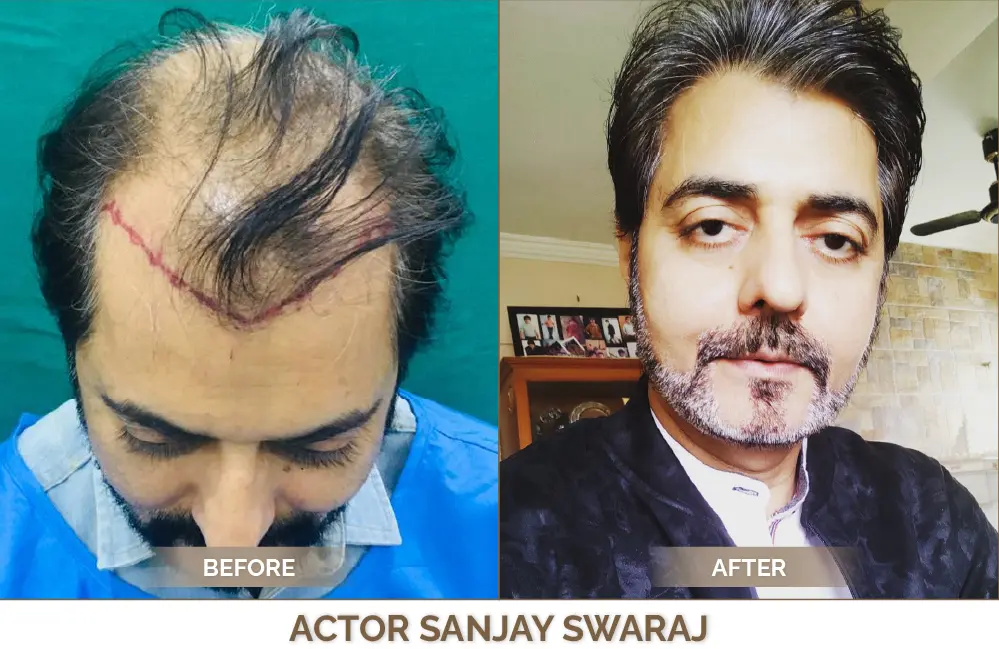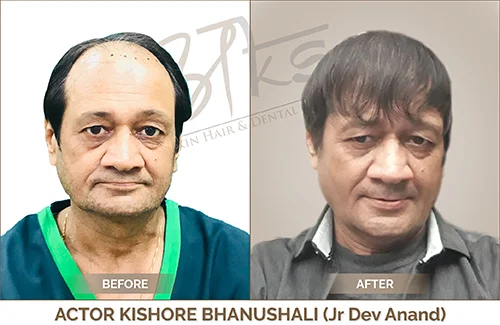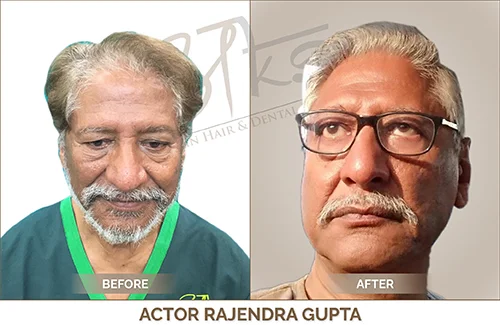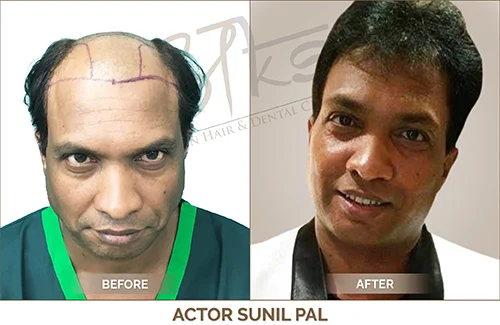 Before After Gallery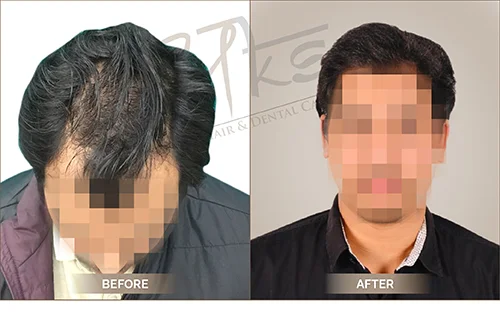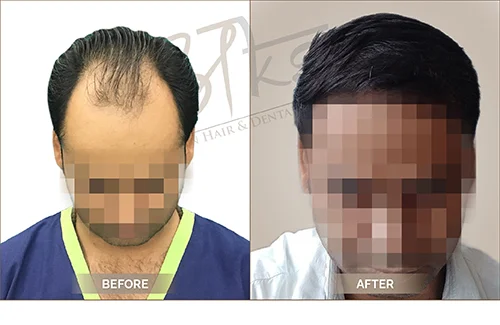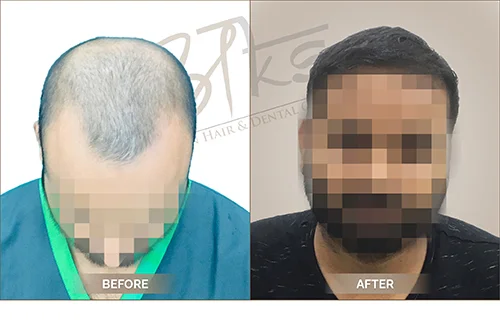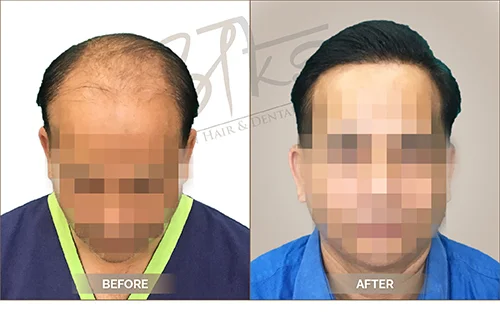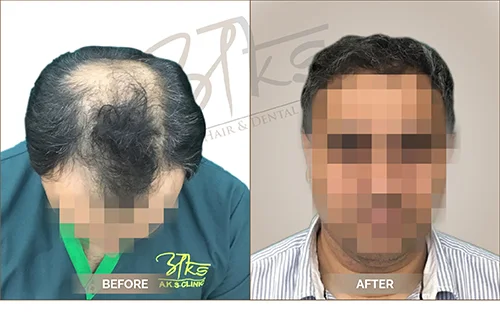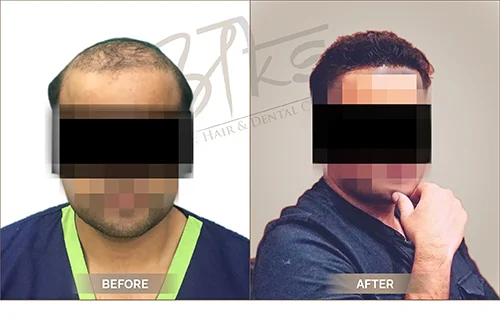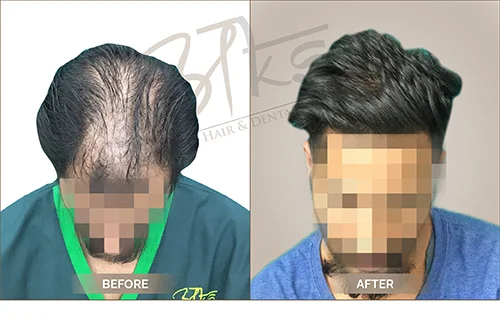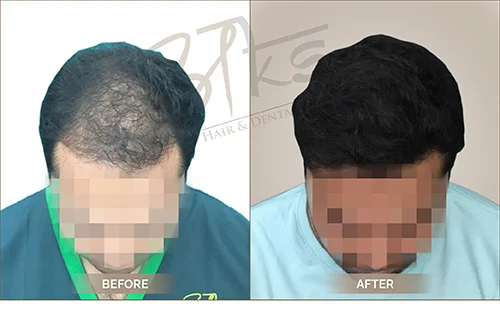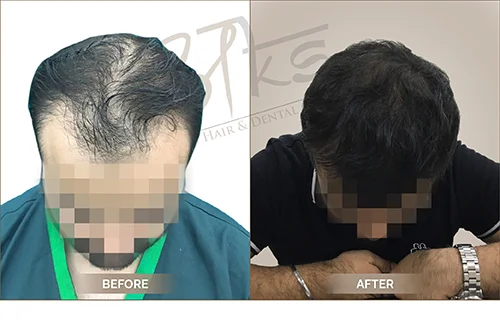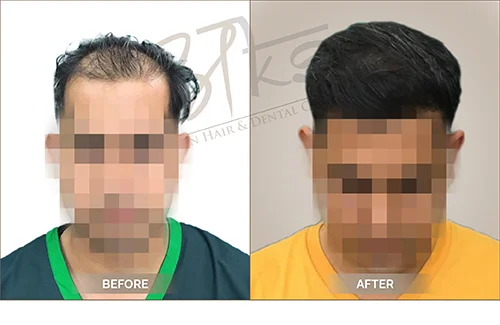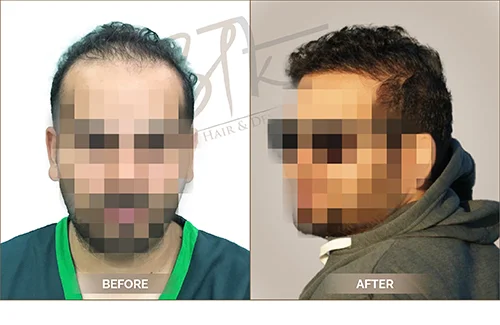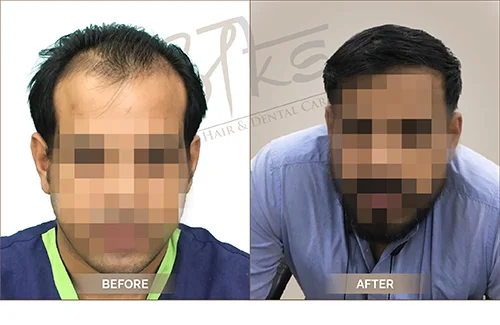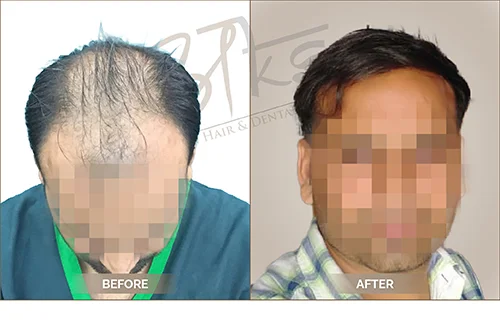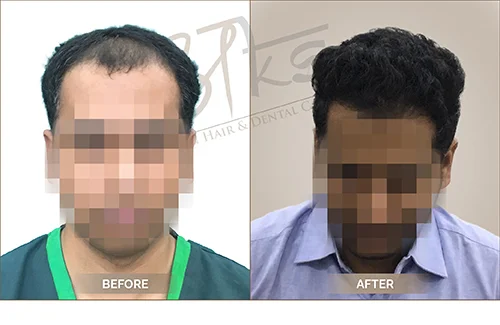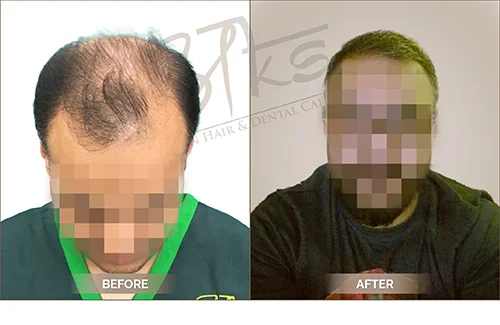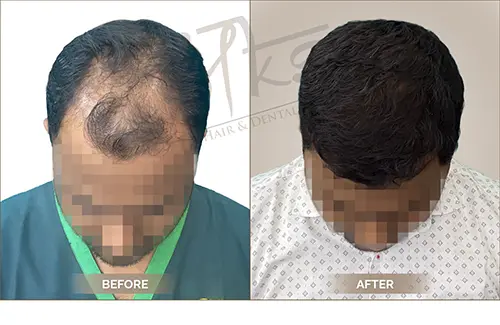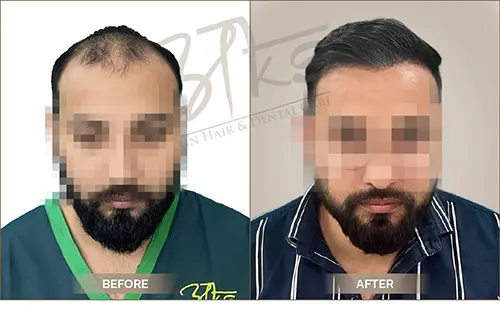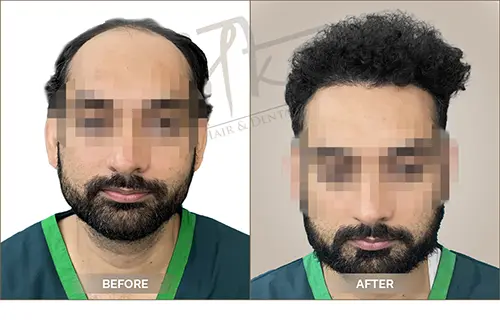 Harsh Banger
I have got my hair transplant done at Aks Clinic and from the starting point (consulting) everyone has been cooperative, they listen, understand and then suggest what's best for you. I got my appointment booked over the weekend and the entire process was really smooth. I have got my transplant successfully done and already seeing the results within 2 weeks. Will definitely recommend Dr. Akhilendra Singh for hair transplant.
Ankur Yadav
I started the scheduling process for my hair transplant while I was in US and the staff was super helpful to get me all the proper and required details. I also got an initial consultation with the doctor, who explained me the proper procedure and helped me make up my mind to undergo the procedure. The transplant surgery was a day long process where I was treated very nicely. This place is highly recommended.
Ayush Saxena
I had a great experience for HT treatment with AKS clinic. Dr. Akhilendra is very polite and solve every small doubt related to HT. His process of surgery is very calm and comfortable. Staff is very humble, experienced and friendly. They guide at each stage of process and help along the journey of hair growth. Hope to have good results.
Videos