Best Hair Transplant Doctor in Delhi
---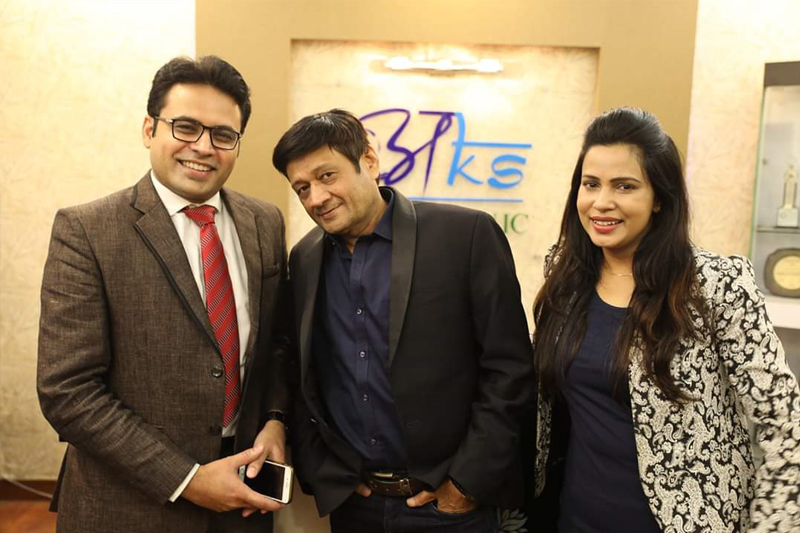 Dr.Akhilendra Singh has done M.D. from Post-Graduate Institute of Medical Education and Research (PGIMER), Chandigarh, the most prestigious institute for Dermatology and Trichology training in India. Dr.Akhilendra Singh has been invited in many international and national hair transplant conferences as a speaker and faculty. Dr. Akhilendra Singh is a pioneer of HD FUE surgery in India. The removal of single live hair follicles to transplant is quite simple and painless with HD FUE extraction by Dr. Akhilendra and his team.
Hair transplantation is a surgical technique that moves individual hair follicles from a part of the body called the 'donor site' to a bald or balding part of the body known as the 'recipient site'.
---
Celebrity Hair Transplant Experts in Delhi
---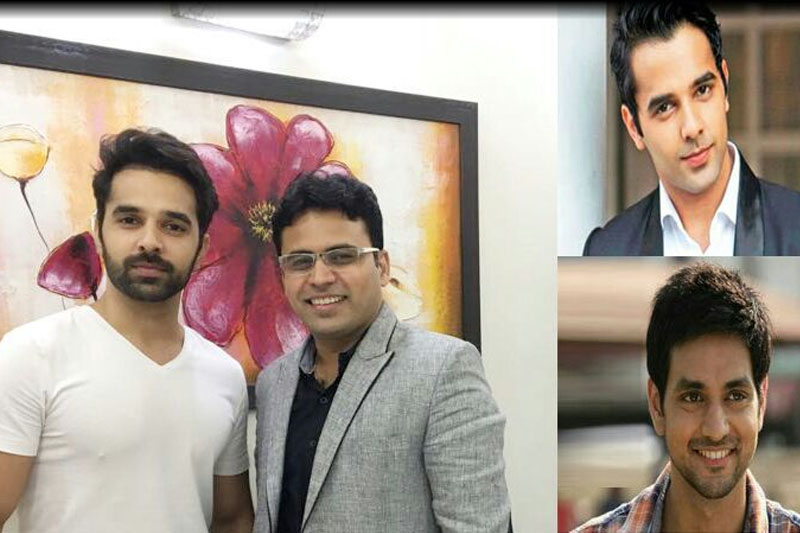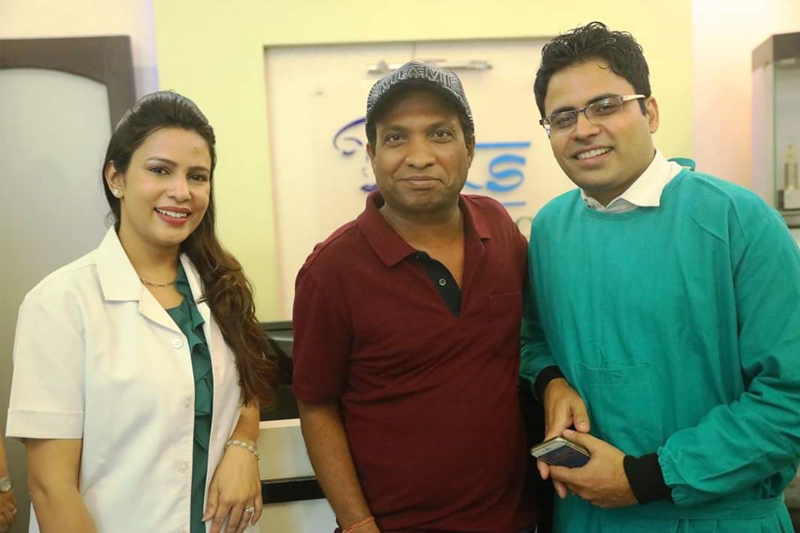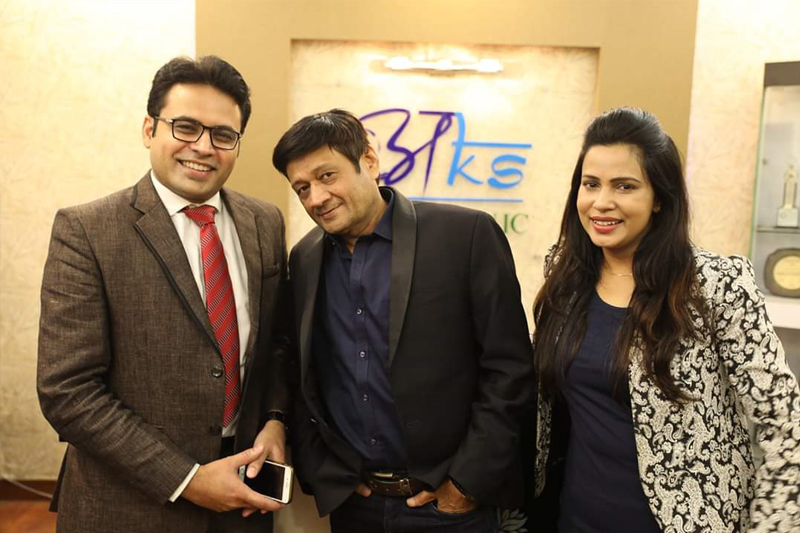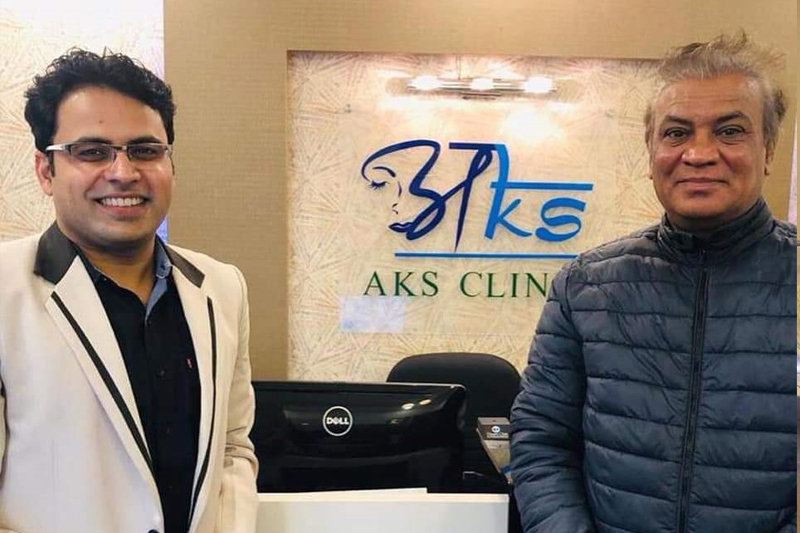 ---
What People Say About Us
---

Dr. Akhilendra Singh is an extremely thorough and competent professional. He is best in this field. He explained everything he was doing in detail and he spends a lot of time in listening to and addressing concerns. I had my procedure done 3 days back and it was a really nice and professional experience. No pain during surgery and even after transplant there is ni pain.
Hoping for excellent results.

Definitely one of the best doctors in Delhi NCR. Found out after a lot of research. The doctor listens to you and gives very practical solutions. I underwent hair transplant and it was absolutely pain free and done very professionally. Its been 4 months and I have already started seeing very good results. The entire support staff is also very cordial and helpful especially Harpreet M'am.

If you are looking for value for very penny spent on your transplant go for AKS without any doubt. What matters most is who carries out your transplant. And here Dr. Akhilendra Singh himself does it for you. Very professional, dedicated and drives it by passion. I am awaiting to see my results after 6 months from now but So far I am very satisfied with the procedure.
Happy hairs to you all :)
Review Source: Google (AKS CLINIC)
---
Top Hair Transplant Clinic in Delhi
---
Are you suffering from Extreme Hair Loss problems?
Direct Hair Transplant, original name- AKS clinic is the successful innovation of our Hair Specialist & celebrity Hair Transplant Expert- D. Akhilendra Singh. DHT stands for the unique technique which aims to transplant the hairs directly from the donor area to receiver area which reduces the idle time. The whole process is performed under the guidance of Hair Transplant surgeon only through Experienced technicians.
Are you suffering from Extreme Hair Loss problems?
Going through surgical procedures such as hair transplants, you should keep something in mind. That can let you hair transplant procedure smooth and risk-free. So if you have decided to get a hair transplant proceeded ahead, then you are suggested to know your surgeon well before the transplantation. Although you are going to the best hair transplant clinic in Delhi, you are suggested to know your doctor well before the operation.
These people are the best surgeon, basically, known for hair transplantation. And if your appearance is getting reduced, just because of the baldness of a small portion, then you are suggested to have a visit here. Then you find the best treatment for that here and the best thing is that they are charging a fair amount for that.
Some indispensable points to be aware of
Some people have some doubts about the surgical procedure so it is so natural. But they also hesitate to ask the surgeon to clear their doubts. But here, you meet the best hair transplant surgeon in Delhi, and if you have any doubts about the hair transplant then you should feel free to ask. And you don't need to worry about anything because they don't charge for the consultation.
So you are suggested to ask anything regarding the surgery that you are going through. Basically, they are intended to improve your self-esteem before going through the procedure. So you don't need to worry about anything such as side-effects, and reactions, etc. because if you come here for the best hair treatment clinic in Delhi, then you should know you have got to right place.
Follow what you suggested by your surgeon
Any surgical procedure takes time, some time a quite long time. So if you have got your appointment to your surgeon about the hair transplant and your surgeon suggested some regimens and medicates to you, then you are strongly suggested to follow these regimens timely.
The reason is very genuine that is this could be a part of the surgical procedure that you are going through within some coming days. The top hair transplant clinic in Delhi makes you feel free and never emphasizes for the treatment.
So you can make the right decision, and then your surgeon goes ahead for that. And if you do not think that you have a great need for the hair transplant, and then feel free to let them know. They are known for the best hair transplant surgeon, so get ready to get your earlier look that you are depriving for so far.
So there are some indispensable points are given that a patient, who is about to go under the surgical procedure for the hair transplant, should know well. And you should know well about the surgeon as well. If your surgeon does not possess some experiences, then you are suggested to think twice.
Do not delay your hair problem, contact Hair Expert in Delhi today.